Compete for the high point of intelligence in the industrial field
Chengdu Wixhc innovation does not stop
During the past ten years of development
Wixhc always takes technology first
Continuously increase technology research and development efforts
Committed to the innovation and progress of industrial products
And in the last year of 2022, it will obtain two more patent authorizations
《一种自动切割控制器》
Patent number:ZL2022 2 1175338.7
Authorization announcement date: August 30, 2022
Authorization announcement number:CN 217318683 U
《一种工业无线遥控器》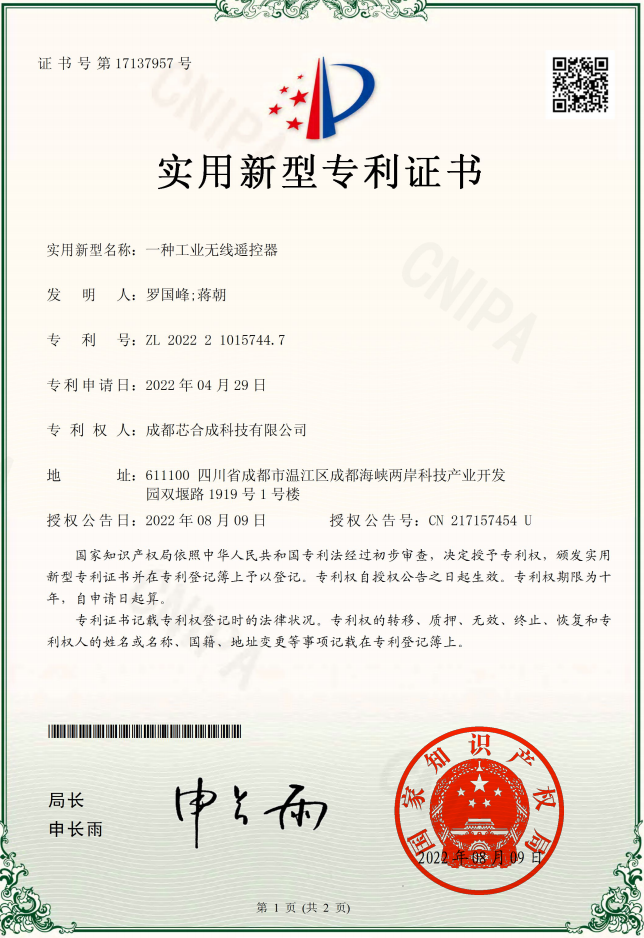 Patent number:ZL20222 1015744.7
Authorization announcement date:August 9, 2022
Authorization announcement number:CN 217157454 U
Aggregate core technology to achieve a new life!
In the industrial field, Xincheng constantly tempers its own core technology, always maintains the driving force of technological innovation, focuses on the field of wireless data transmission and motion control, and continuously provides customers with high-quality industrial products and technical solutions. Now it has obtained more than 20 national patent authorizations. Brand leader. In the future, we hope to use our own technology and products to create more benefits and value for customers, and work with customers to achieve a new industrial intelligent life!
【Contact us 】
ChengduXinHeCheng Technology Co., Ltd.
Address: Unit 2, building 1, No. 1919, Shuangyan Road, Wenjiang District, Chengdu, China
Sales Contact :Alex He
Whats App/phone:+86-13568946750
Email:wixhc-sale2@cdxhctech.com
Skype:Wixhc-sale2@hotmail.com
QQ:3519374263 / Wechat: Fans1026-TS
Sales Contact :Minda
Whats App/phone:+86-18784578962
Email:wixhc-sale1@cdxhctech.com
Skype:huangmin120@hotmail.com /Wixhc-sale1@hotmail.com
QQ:786216706/1970483651 / Wechat: mizi187095
Sales Contact : Pearl
Whats App/Phone: +86 17369181317
Email: wixhc-sale5@cdxhctech.com/ pearlcnccontroller@163.com
Skype: wixhc-sale5@cdxhctech.com
QQ: 2831905901/ Wechat: Pearl9980512
Technical support and service
8: 00am-8:00pm we will serve you wholeheartedly.